Homa Samiei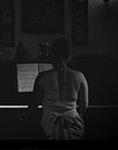 Homa Samiei, 1993 Tehran, Iran Toronto based composer Composer, Pianist, and co-founder of Najva Ensemble Co-founder of Himeh Cultural House She studied composition at the Art University of Tehran. Samiei is currently pursuing her master's degree in community music at Wilfrid Laurier University.
Some of her notable musical activities include:
Composer and pianist in Raha(Free) album 2015; Participating in Lucca contemporary music festival 2016 as a composer and pianist; Composer and Pianist of Karizmah performance directed by Mehdi Mousakhani.2017; Participating in several performances with Najva Ensemble as a composer and pianist across the world, such as Budapest, Amsterdam, Mexico City, Tisnov, Iran, and ... Composer of the "Coming Home" project, which was performed at Nightwood Theater, Toronto, and London, Ontario. 2018. Composer of " It seems the god is falling asleep," Commissioned by The Thin Edge New Music Collective, 2020 Composer of "Now… Tomorrow is Naught… !," Commissioned by The Art song Collaborative Project (ASCP), 2021 Composer of "Fate" for cello solo, performed by Michael Nicolas, IFCA Works for Strings Event, International Contemporary Ensemble, Tues @7, New York, Oct 2020 Artistic Director, composer of Najva ensemble for the special events produced by IFCA (Online Concert) December 2020.